The best answers for all the most asked questions.
What is TestFit?
A simple generative design and co-creation tool that allows a user to get a site TestFit in seconds for multifamily development.
What is the cost?
Contact us at: sales@testfit.io
How does TestFit work?
Once a site boundary is closed, TestFit uses a proprietary algorithm to generate a building given the users specifications.
Where is TestFit Headquartered?
Dallas, Texas
Who uses TestFit?
TestFit users are architects, brokers, contractors, developers, or anyone wanting to do feasibility studies.
Is the software web based?
TestFit is an application that is downloaded and installed onto a mac or pc. It does require an internet connection for license checks.
Is there a Trial Version?
TestFit offers a free trial with the full version of the software.
How do I cancel my subscription?
Send an email to sales@testfit.io or use the login portal.
Will I get access to the most updated version?
All updates are free for users. Every update to the software will need to be downloaded and installed from our licensing website.
What does this error Message mean?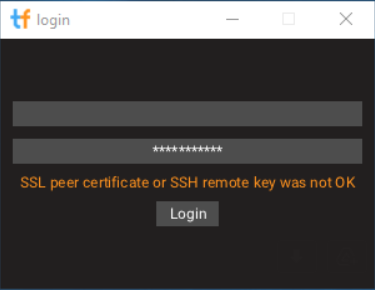 Often this is solved by having the IT department allow outbound traffic to https://portal.testfit.io and https://testfit.io
Why is TestFit closing immediately after it launches?
Usually this kind of behavior is due to an invalid ".autosave.rsd" in this directory: C:\ProgramData\testfit. Delete it from your computer. Hopefully, TestFit will launch successfully after that file is gone.
What are the saving options?
TestFit can be saved as: .pdf, .csv, .dxf, sketchup, .glTF, & .rsd (TestFit file)
Note for iOS users: File Save -> save as -> filename.pdf, filename.rsd, filename.csv, etc. Your computer will only read the file if you have an application or software to read that file type.
Will the TestFit team create custom features for my organization?
At this time there is only one active and supported branch of the software at any time. This means all new features will be developed for every customer and everyone will benefit. Feel free to submit a feature request.
Graphics System not supported error.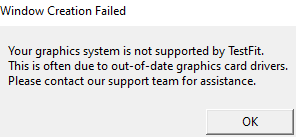 Make sure your graphics card (GPU) drivers are fully updated. Out-of-date drivers are the most common reason for this dialog to appear. These can usually be installed from Windows Update or your hardware manufacturer's website.
If the dialog persists after updating your drivers, then Windows may be attempting to run TestFit on an integrated graphics card, which are less powerful and may be unsupported. If you have a dedicated graphics card, tell Windows to use that instead.

Go to Settings > System > Display. Scroll down and click the "Graphics Settings" link.

Under Desktop apps, choose testfit.exe in the C:\Program Files\BuildingForge\testfit\ directory. Set it to use the High-performance GPU.
How do I update my payment details for my license?
Contact Caroline at caroline@testfit.io or hop on a quick zoom.
Is there integration between Revit/Autocad and TestFit?
TestFit can export the open .dxf format which can be read by most CAD-based software tools. The TestFit team has also built several dynamo nodes that make building a BIM much easier.
What version of dynamo/grasshopper is TestFit built on?
TestFit is built, by us, from the ground-up