Building typologies define the preset parameters and configurator that will be used in your project.
TestFit has 6 typologies and associated configurators, to help generate site and buildings according to the presets in the configurator.
The 6 typologies are:
High Density
Low Density
Garden
Garden Apartments
Core-based Buildings
Massing
Industrial
Within each typology there are specific building types to choose from.
---
High Density

Donut - units wrapped around infill parking structure
Gurban - "Garden style urban" - urban units with surface parking
Podium - Upper level units over lower podium construction
Podium Fill - Podium parking filling the site with 5 story building above
Tower - Same as a podium, but 18 stories
Unparked - No parking on site
Wrap - Buildings surrounding structured parking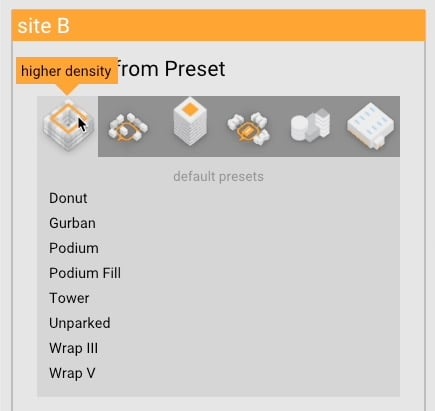 ---
Low Density

Duplex - Two units per building, 10' between buildings
Row House - As many units as possible with no separation
Single Family - One unit per building. 10' between buildings
Subdivision - Mixed Density - Varying parcel sizes and units
Subdivision - No Footprint - Three parcel types, no footprints
Subdivision - Static Footprint - Varying parcel sizes, one footprint
Subdivision - Target FP - Three parcel types, target footprint area
Subdivision - Target FP Grouped - Three parcel types grouped together, with target footprint area
Townhomes - Three stories, four units per building, 10' between buildings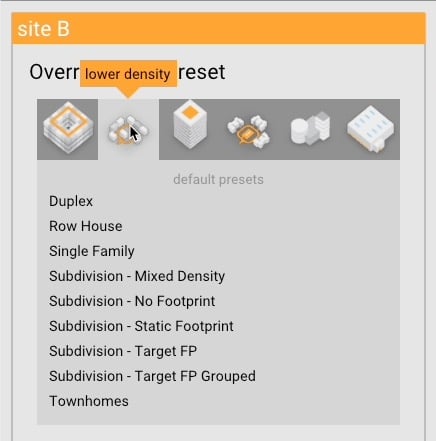 ---
Core-based

Infill Office Site - Non-orthographic building that allows single loaded corridors
Spec Office - Orthographic building, fully encapsulated core
Tower Office - 25 floors, vertical circulation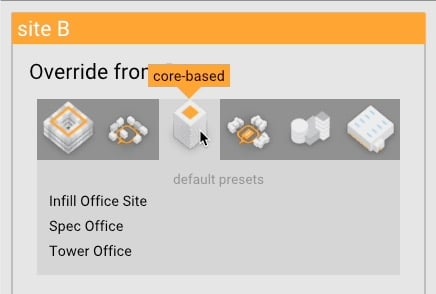 ---
Garden

Garden - 3 story building with surface parking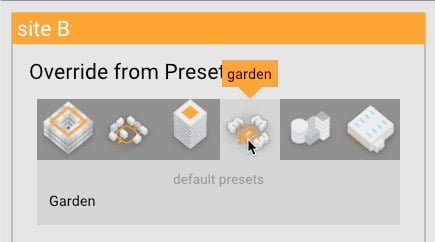 ---
Mass-based

Grocery - Site filled with parking, with a single box for retail
Mixed Use - Spaces surrounded by fixed parking
Surface Parked - Site filled with surface parking
Two Courtyards - Two static courtyards with static parking garages




---

Industrial

Large, Cross-loaded, Parked - Max 80 deep and wide with parking
Max Building, Cross-loaded - Max 80 deep and wide, cross-loaded without parking
Max Building, Single-Loaded - Max 80 deep and wide, single-loaded without parking
Mid-Size, Single-Loaded, Parked - Max 20 deep and wide, single-loaded with parking
Prototype 10x15 - 10 x 15 bays with parking
Prototype 10x20 Cross - 10 x 20 bays, cross-loaded with parking
Prototype 3x6 - 3x6 bays, single-loaded with parking
Prototype 5x10 - 5x10 bays, single-loaded with parking
Urban Infill , No Parking - 10 x 15 bays single-loaded without parking