The Low Density configurator allows you to lay out projects on your site.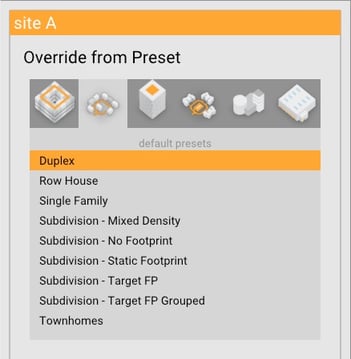 ---
The Lower Density configurator has the following presets
Duplex - Two units per building
Row House - Attached units, number defined in the Housing panel
Single Family - One unit per building
Subdivision - The site is divided into parcels

Mixed Density - Variable parcel size, varying unit counts
No Footprint - Site divided into three parcel types, no units
Static Footprint - Varying parcel size, one unit type
Target FP - Three parcel sizes, units fill each parcel to target footprint
Target Footprint Grouped - Three parcel sizes grouped with target area units

Townhomes - Three units, four story buildings

Brownstone TH
Large TH
Medium TH
Single Family
Small TH
The Lower Density Configurator also has a Unit Editor which allows you to customize the database.
---
Low Density Housing
Duplexes, Row Houses, Single Family, and Townhomes are all essentially the same with the building configuration defined by the Townhouses section of the housing panel.
---
Controlling the distance between buildings
Distance between buildings is controlled by the row gap and back-to-back buffers.
The row gap buffer is on the housing panel, while the back-to-back buffer is on the drive panel.
---
Enabling Garages, Endcaps, and Balconies
Garages, Endcaps, and Balconies are all controlled in the Dynamic Units panel in housing.