Use this feature to create custom roads, street sections, and to assist with urban planning.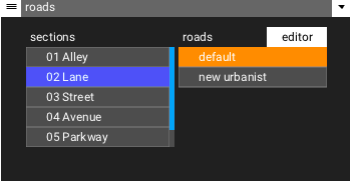 Definitions
Name - what the street section is called

Sidewalk - paths that generate crosswalks in intersections
Buffer - zoned area that separates a sidewalk, drive, parking or bus lane. Typically used for medians or setting back buildings from the road
Drive - area that is driven on by a vehicle
Parking - area reserved for street-side parking
Remove - removes a specific feature
White drag handles - drag up and down to adjust the sequence of features.
How to access the road editor:
Select "editor" in the roads panel.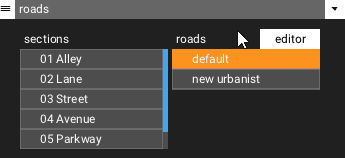 How to draw a road:
Select the desired street section, then draw two points in the plan view.
To finish drawing roads, hit Escape or select the desired street again.

How to curve a road:
Left click drag the road to convert them to curves.
How to straighten a road:
Right click the road and select straighten.

How to generate an intersection:
Draw a second road across the first road.

How to manipulate drawn roads:
Hover over a road's endpoint then left click drag that same endpoint.