The higher density configurator panel lets you select building presets, select unit databases, adjust the mix, unit average and parking as well as custom define units with the editor.
---
To start using the Industrial Configurator, you'll want to go through the steps below:
Input the address of your site
Select which preset you want to use
Define your unit database
Edit your unit mix
---
Definitions
Presets - intended to save sets of parameters from the building input panel, rather than needing to manually adjust building options individually every time a new site is test-fitted

Within the higher density configurator, you have the following presets:

Donut - units wrapped around infill parking structure
Gurban - "Garden style urban" - urban units with surface parking
Podium - Upper level units over lower podium construction
Podium Fill - Podium parking filling the site with 5 story building above
Tower - Same as a podium, but 18 stories
Unparked - No parking on site
Wrap - Buildings surrounding structured parking

Within the presets, you'll get the layers below as defaults:

Zoning - Allows you to define the setbacks, and Zoning Profile
Deal - Define costs and revenue metrics
Units - Set unit types and mix, parking ratios, and dynamic unit parameters
Building - Define building parameters such as levels, floor-to-floor, and other options
Garage (or Parking for Gurban) - Define parking types, location, stall types and sizes, and circulation parameters
Verticals - Define stair, elevator, firewall, and core parameters
Amenity - Define type and size of amenity spaces

You can add new layer types by hitting the plus button in the bottom left of the Navigation Tree.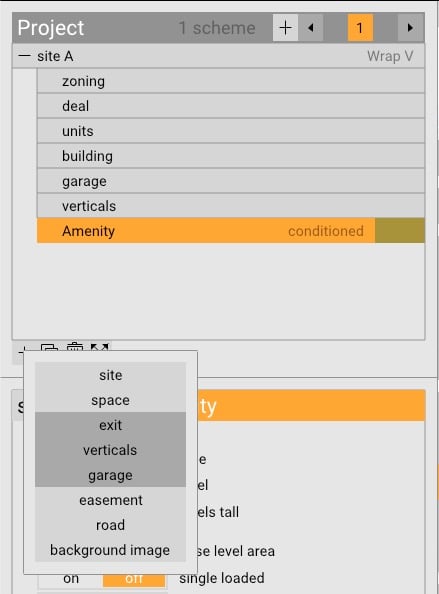 ---
Selecting a Preset
To change your building preset at any time, hit the site in Project dropdown, and select the preset you wish to use.
NOTE: Changing presets will reset any parameters that have been adjusted.
---
Using a Unit Database:
Unit databases allow you to use pre-defined unit layouts. To access the Unit Database, to go Units > dynamic units then select the unit database you want to use.
You can also define your own units by editing an existing unit database.
---
Adjusting the percentage of each unit being used:
You can change the mix of units by changing the weight or average of each unit. Changing weight will tell TestFit to try and hit the percentage of units, whereas changing the average will tell TestFit to try and hit the square footage for each unit type
---
Adjusting the parking ratio:
Select the unit and enter in the parking ratio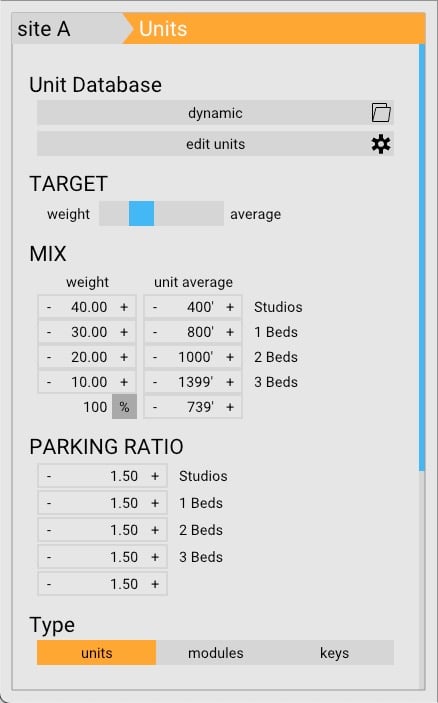 ---
Enabling dynamic end caps:
Enabling dynamic end caps can get a small efficiency bonus.