Site-filled and custom-defined massing as well as void spaces
Mass-based buildings allow the user to create building volumes to get financial, architectural, and site metrics that you need to determine if a project is feasible.
Select mass-based buildings in the Configurator panel
Go to the Configurator tab and select Mass-Based Buildings from the Site Type dropdown.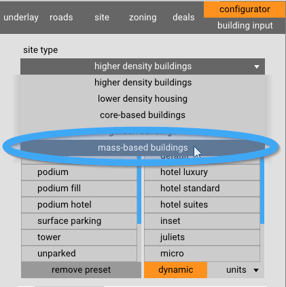 Default
The default for mass-based buildings will populate a site with a building that has an offset and surface parking. You can either modify those or follow the steps below.
Draw a site
Under the Site tab, click the draw site button. Place your site boundary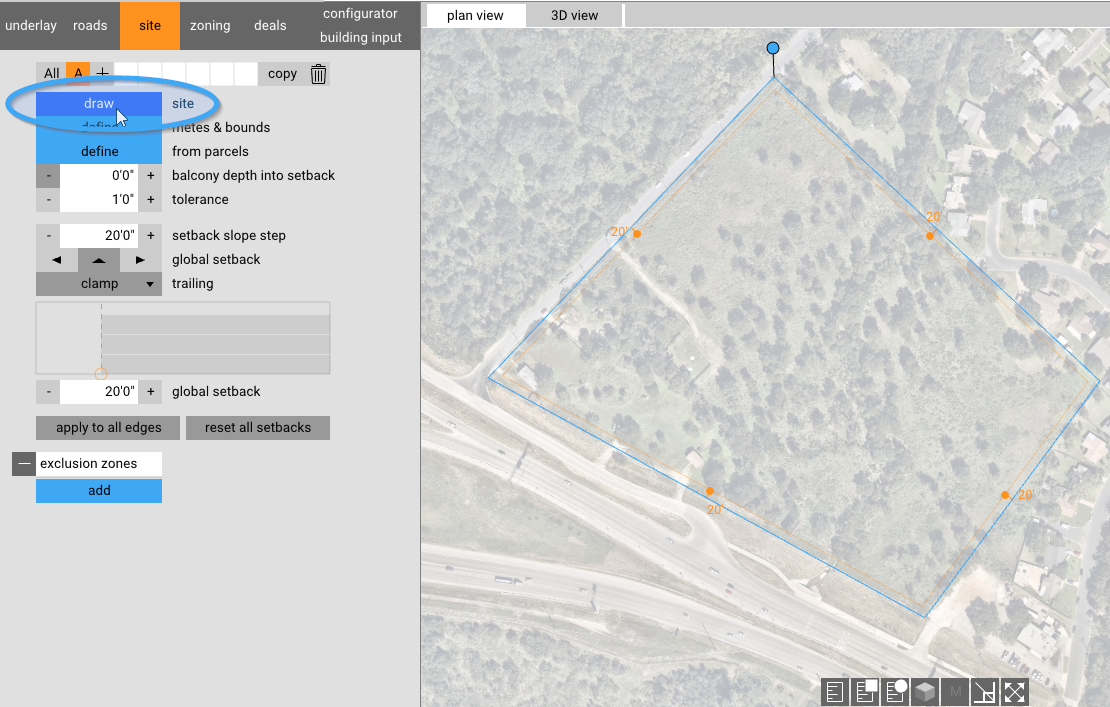 Add surface parking
Go to parking in the building input tab, make sure it is enabled.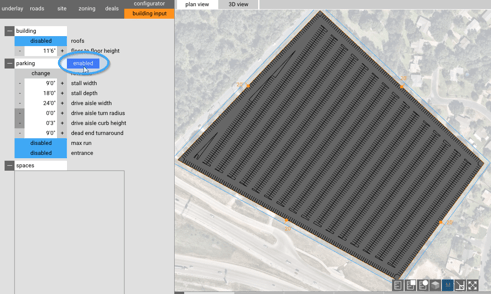 Adding a building/space
Go to the Building Input tab and click the add a space icon in the bottom left. Select the space in the spaces tab, click the shape dropdown, and select draw. Draw your building on the site, click and drag the building to move it around.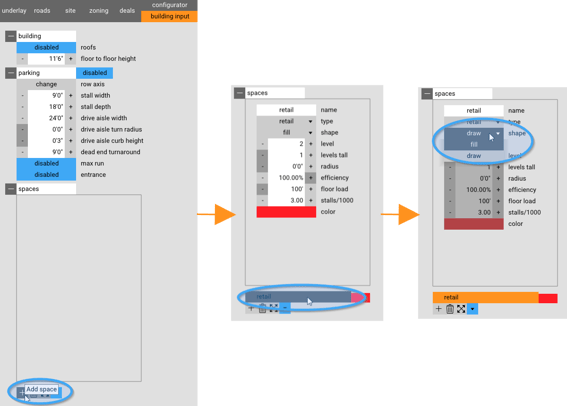 Offsets
To add an offset to a space, click create offset with the space selected. This will place an offset in the layer manager. To edit the offset, you can either drag the dimension of it in the view or adjust the global setback in the space panel.
Presets & Databases
Presets and databases give users building blocks to start from. Presets place shapes within your site for you to easily maneuver.
Parking
Entrances/Exits
Parking offsets
Layers
The layer manager visualizes what objects will be prioritized when they come into contact with one another. For example, in the images below, whichever space is at the top of the layer manager is prioritized.
Void spaces
Void spaces will remove the space it intersects with.
3D Manipulation
Corners can be added to any space.
Move buildings parallel to the face
Setbacks
Setbacks at height work within mass-based buildings.
Exclusion zones
Just like our other building typologies, excursion zones work in mass-based.
Gravity
Yes, we have gravity.
Manual Mode
This is pretty much manual mode.